Step #1: Built as Designed
The interior design is a very essential part of the character of an aircraft. We help you personalize it to perfection. Depending on the aircraft mission e.g. in charter or privately operated, the aircraft will have a different layout and set of materials. We, at Phoenix Jet Interior, are excellent at selecting the right materials and matching the level of quality vs. durability. We source our precious materials at approved vendors all over the world. We are also capable of certifying your very own hand-crafted or unique fabric of your choice. Committed to 100% completion of your vision, we are in no way limited to any standards and will not stop creating solutions until we deliver the perfect product.
While providing the perfect guidelines and personal assistance throughout the interior design process, we know how to add the extra personal touch, consulting you from day one and pointing out your options at every stage. The final design will be fresh and unique - just the way you want it.
Levels of Customization: Refurbishment
Services Exceeding Expectations
Services not only include the exchange of carpets, new leathers and fabrics. There is much more you can do to your aircraft cabin to give it a new stylish look and to have your cabin management system upgraded and equipped with the latest In Flight Entertainment (IFE) technology. We are able to offer to you a selection of the most advanced interior design options based on the latest disruptive technology. As we are independently connected to the global network of innovative suppliers, we are in a position to simply select from the best. We support innovative portable iPad solutions, fast internet and any combination of advanced media, from starlight ceilings to digital surround sound systems. We make the aircraft fit your personal needs, making it your new favorite place to be.
We distinguish between two general types of cabin modifications:
Refurbishments and Completions.
---
Refurbishments
Restoring or restyling the cabin appearance.  Re-using the existing cabin interior furnishing structures to apply new leathers, fabrics, carpets and special surface materials. Selecting new wood veneers, stones, corians. Adding or updating latest technology such as larger monitors, upgrading to LED full spectrum color lighting and integrating modern entertainment systems. Installation of high speed internet and WiFi applications along with Cabin Management System (CMS) upgrades. Refurbishments also significantly increase the residual value of an aircraft.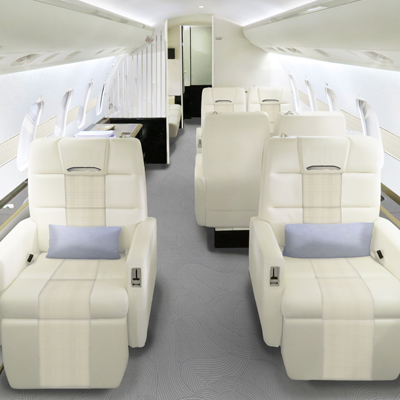 Levels of Customization: Completions
Completions
Uniquely designed cabins. Pre-owned aircraft rebuilt as new, or a brand new "green" aircraft built from scratch - A full completion will allow you to design your new floor plan to match your seating requirements, add galley space or enlarge entire lavatory units and integrate latest entertainment systems. As long as it is certifiable - you will get it. The aircraft cabin will be entirely designed with the full freedom of innovative design solutions - the way you want it.
Step by Step
The following service menu will provide you with the entire support package, from the initial cabin inspection all the way to the final contractual documentation. From day one onwards, we will guide you through all the subsequent milestones and relevant decisions - step by step.